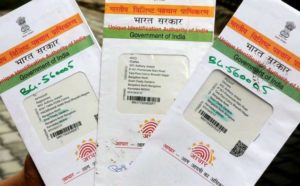 Following are the important statistics provided by the Central Government regarding the benefits of Aadhaar cards. The Supreme court has upheld the decision to link Aadhaar with PAN numbers. Here are the benefits of Aadhaar as mentioned by the Government of India.
1) PDS: Aadhaar led to the deletion of 2.33 crore fake ration cards and saved Rs. 14000 crore up to December 2016.
2) Banking: Over 7.35 crore bank accounts opened using e-KYC service. Of the newly opened 28.44 crore Jan Dhan accounts, over 18.97 crore accounts used Aadhaar.
3) DBT: Direct Benefit Transfer scheme via Aadhaar saved Rs. 49560 crore in 2014-15 and 2015-16.
4) Passports: Over 1.36 crore residents obtained their passports using Aadhaar.
5) LPG: Over 3 crore fake / duplicate LPG connections weeded out, thus resulting in savings of over Rs. 26000 crore to the exchequer upto December 2016.
6) MNREGS: Aadhaar number linked to over 8.80 crore active MNREGS workers of the existing database of 10.38 crore active workers.
7) Income Tax: Aadhaar enabled income tax payers to e-verify their tax returns using Aadhaar OTP authentication.
8) Pension: Seeding of Aadhaar with Jeevan Pramaan sees 71.17 lakh pensioners use the scheme in 2016. Digital signatures used in National Pension Scheme accounts.
9) Biometric Attendance: Aadhaar enabled biometric attendance system is now available in 660 organisations.