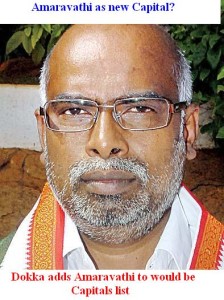 Here comes another crazy proposal for Seemandhra Capital City. State minister and Tadikonda MLA of the Congress Party, Dokka Manikya Vara Prasad Rao has opined that historical town Amaravathi or Kondaveedu will serve better as Capital of Seema - Andhra regions, i.e., residuary state of Andhra Pradesh.
Dokka is the latest to join the High Command loyalists in Seemandhra region. His discontentment with the Chief Minister for unknown reasons has forced him to join in anti - CM league in the bifurcation scenario.
Dokka Manikya Vara Prasad also told the media that he will express the opinions of his constituency people in the Assembly when the discussion on Telangana bill is initiated. He also declared that he will respect the decision of Congress high comman on the bifurcation issue.