The Government of Andhra Pradesh is inviting public opinion on the designs of Ambedkar Smrithi Vanam Project. The Government has shortlisted four designs and the final design is yet to be selected after eliciting public opinion.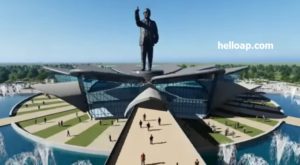 The Government of AP has appointed four consultancies for design of Ambedkar Smrithi Vanam. The designs of all the consultancies were put on the internet for public opinion.
People can post their opinion and votes online through the website http://103.210.73.30/AmbedkarSmritiVanamProject/ . You need to select the best out of the four in the format of A, B, C and D. You also need to mention the reasons for your selection.
The Ambedkar Smrithi Vanam Project will be a landmark place in Amaravati, the new capital of Andhra Pradesh. The project was launched on the 125th birth anniversary of Dr B R Ambedkar in Amaravati.