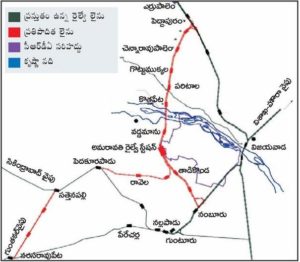 The new capital city of Andhra Pradesh, Amaravati is getting new train facility. New railway lane will be carved out for Amaravati. Three new railway lanes are proposed by the Central Government in the latest budget 2017-18.
The new railway lanes will be around 106 km track with an estimate of Rs. 2680 crore. The proposed stations are as follows:
Yerrupalem - Nambur Lane: Peddapuram, Chennaraopalem, Gottumukkala, Paritala, Kothapet, Vaddamanu, Amaravati, Tadikonda, Koppuravuru.
Amaravati - Narasaraopet Lane: Nidumukkala, Ravela, Chagantivaripalem.
Namburu - Amaravati - Yerrupalem will be a double lane and Pedakurapadu - Amaravati - Sattenapalli - Narasaraopet will have single lanes. New terminal will be set up in Amaravati.