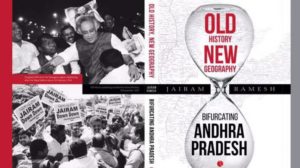 Senior leader of the Congress party, Jairam Ramesh has penned the important incidents that took place during the separate Telangana state movement and the process of bifurcation of Andhra Pradesh in his latest book 'Old History and New Geography: Bifurcating Andhra Pradesh'. The book was published by Rupa Publications India and available at cover price of Rs. 536.
Jairam Ramesh has cited three important reasons for the bifurcation of Andhra Pradesh. These are 1) unto death fast by KCR, 2) hopes on the merger of TRS into Congress and 3) suicides and opposition pressures on the Congress party.
Jairam Ramesh, who played key role in deliberations and drafting of AP Reorganisation Act - 2014 has opined that a large number of suicides in Telangana have moved the UPA government to announce the process of division of AP. He also claimed that the Congress party felt strengthened to go ahead with the division after receiving letters from BJP, TDP and YSRCP in favour of creation of Telangana.
Jairam Ramesh has tried to defend the stand of Congress on the issue. He disclosed that Gulam Nabi Azad was successful in convincing the Congress President Sonia Gandhi of the political mileage to Congress in AP and Telangana after bifurcation. Revelations such as Congress hopes on merger of TRS and expecting political benefits from both states after division may further deteriorate the Congress prospects in both the states.