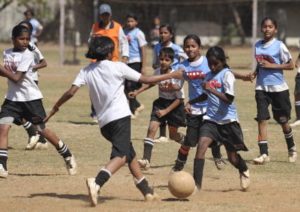 Krishna District Sports Authority (KDSA) will be conducting various summer sports coaching camps for boys and girls. The children in the age group of 6-16 years can use these camps to develop sports skills. The camps will be conducted in different parts of Krishna district including Vijayawada and Machilipatnam.
About 50 summer coaching camps will be organised in Krishna district. Around 20 summer camps are arranged at Indira Gandhi Municipal Corporation (IGMC) stadium in Vijayawada. Following are details of summer camps:
1) IGMC stadium: Athletics, Basketball, Boxing, Caroms, Football, Hockey, Handball, Judo, Netball, Sepak-Thakraw, Taekwondo, Tennis, Through Ball, Volleyball, Table Tennis, Weight Lifting.
2) SDM College: Kho-Kho, Nirmala High School: Baseball, Olga Archery Academy: Archery
Summer camps in Krishna district:
1) Volleyball: DDCV grounds, Patamata, ZPHS, Boys, Kondapalli, Nalanda High School, Gudivada, ZPH School, Kothapalem
2) Basketball: Victoria grounds, Nuzvidu
3) Handball: ZPHigh School, Edara
4) Football: Railway Institute grounds, Satyanarayanapuram, Vijayawada, Kennedy school, Kanuru
5) Hockey: National College, Machilipatnam
6) Ball Badminton: Railway Institute grounds, Satyanarayanapuram, Vijayawada, Public School, Gudlavalleru
7) Softball: St Josephs School, Nunna
8) Power Lifting: KVR College, Nandigama, Indoor stadium, Tiruvuru
9) Kabaddi: Nandigama, ZPH School, Katuru
10) Kho-Kho: Nandigama, ZPH School, Mandavalli
11) Badminton: Indoor stadium, Jaggaiahpet, Nandigama
12) Athletic: ZPH School, Batlapenumarru, ZPHS, Avanigadda, ZPHS, Manglapurma (Challapalli)
13) Archery: Dam Dam garderns, Nuzvidu.