Hyderabad Metropolitan Development Authority (HMDA) has released the Draft Hyderabad Metropolitan Development Plan covering an area of 5,965 sq. km. The draft plan including the areas newly added to the Hyderabad Metropolitan Region has been notified and also placed them for objections and suggestions from the public. The HMDA Draft plan has included various new areas from Ranga Reddy, Medak, Nalgonda and Mahaboobnagar district. Following picture / image will give an understanding of the extension of HMDA. Now, the total area of HMDA has been extended as mentioned below:
1. Hyderabad Metropolitan Development Authority (HMDA) : 5,018 sq.km
2. Outer Ring Road Growth Corridor :330 sq.km
3. Parts outside ORR of erstwhile HUDA : 432 sq.km
4. Erstwhile Hyderabad Airport Development Authority : 185 sq.km
Now the Hyderabad Metropolitan Region extends to the following regions according to Master Draft Plan:
1. Toopran on North along the NH-7
2. Bhongir on the East along the NH-202
3. Chotuppal on South- East along NH-9
4. Yacharam on South along the Nagarjunasagar State Highway
5. Kandukur along the Srisailam State Highway
6. Shadnagar on South- West along the NH-7
7. Chevella and Aloor along the Vikarabad State Highway
8. Sangareddy (Medak Dist.) on the West along the NH-9.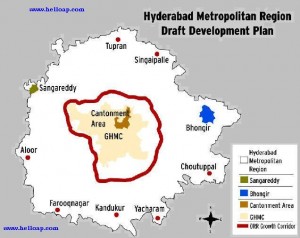 The draft plan includes Greater Hyderabad Municipal Corporation, Sangareddy and Bhongir Municipalities and a total of 849 Revenue villages. The Draft Master Plan covers 35 mandals in the four adjoining districts of Hyderabad. These are from Ranga Reddy, Medak, Nalgonda and Mahabubnagar districts. The plan is drawn for a time period up to 2,031 taking into consideration a population of about 184 lakhs. All the concerned people can express their objections and suggestions on Draft Master Plan for a period of two months starting from July 22, 2011 to 21st September 2011. The concerned form / facility will be available on the HMDA website www.hmda.gov.in' from July 22, 2011.
The objections and suggestions will be inspected at the HMDA office at Tarnaka and also at its zonal offices at Medchal, Shamshabad, Ghatkesar, and Shankarpally apart from Sangareddy Municipal office. People can also get a soft copy of the Draft Plan from HMDA Tarnaka office and its four zonal offices along with Municipalities of Sangareddy and Bhongir by paying Rs. 100. After scrutinizing all the objections and suggestions, the draft plan would be finalized and sent to the government for final approval.