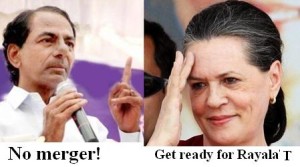 It is almost certain that the Congress high command is tilting towards the formation of Rayala Telangana. If, the fast changing developments at the Central level are to be believed, the Rayala Telangana proposal will be part of the AP Reorganisation Bill 2013.
The biggest loser with Rayala Telangana will be the TRS Party. With no presence at all in Anantapur and Kurnool districts, it will be a difficult situation for the TRS to dominate the political scene in Rayala Telangana state. TRS is also weak in Hyderabad and some other parts of Telangana region. The TRS may have to depend on the Congress or the TDP if it crosses half the mark in the next Assembly elections.
Congress is not sure of gaining upper hand in Telangana, as suggested by several surveys. The Congress game plan is well understood in this context and it likes to dictate the terms in Rayala Telangana, in the post bifurcation scenario. So, the merger ball is again into the hands of TRS !