Following is the Karimnagar district map after its division into three districts. The new Karimnagar district has Vemulawada, Husnabad, Choppadandi, Huzurabad, Karimnagar, Manakondur.
The Karimnagar district has been split into Karimnagar, Sircill and Jagityal districts by the Government of Telangana. The mandals include Kothapalle, Bejjanki, Chigurumamidi, Saidapur, Keshavapatnam, Thimmapur, Manakondur, Veenavanka, Boinapalle, Ramadugu, Choppadandi, Gangadhara etc.
Following map shows the Karimnagar district boundaries, mandals, assembly constituencies, roads and transport, rivers etc. Click on the map to see the bigger version.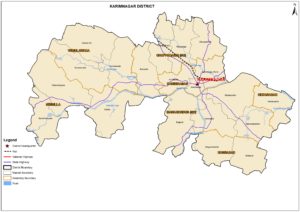 New Districts, Revenue Divisions and Mandals in Telangana State - 2016
New Districts Draft Notifications - GOs 2016
New Districts in Telangana - Objections and Suggestions