The Government of Andhra Pradesh has approved in principle for light metro train system instead of previous metro train project. The Light Metro Project is suggested by public transport expert, Edward Datson, belonging to Kreditanstalt fur Wiederaufbau (KfW), a German financial institution.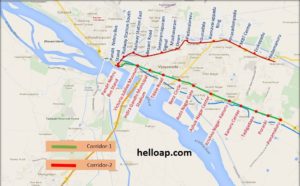 It is estimated that Light Metro will cost less than 25 percent than the heavy metro project. Vijayawada metro rail project will have three corridors of total 40kms.
1) Corridor 1: Nidamanur to Bus Station - 13.27 kms. (Nidamanuru, Enikepadu, MBT Center, Prasadampadu, Ramavarappadu Ring, Gunadala, Padavalarevu, Machavaram Down, Seetaramapuram Signal, Besant Road, Railway Station East, Pandit Nehru Bus Stand)
2) Corridor 2: Penamaluru to Bus Station - 12.76 kms (Penamaluru, Poranki, Tadigadapa, Kanuru Center, Krishnagar - Kanuru, Ashok Nagar Center, Auto Nagar Gate, Benz Circle, Tikkle Road, Indira Gandhi Municipal Stadium, Victoria Jubilee Museum, Pandit Nehru Bus Stand)
3) Corridot 3: Pandit Nehru Bus Station (PNBS) to Jakkampudi colony.
Based on the new proposals, the Amaravati Metro Rail Corporation (AMRC) will prepare new DPRs. Gurugram in the National Capital Region (NCR) also had similar Light Metro Rail system. Light Metro also need 50 percent less land than the heavy metro project, apart from lower capital and operational costs.