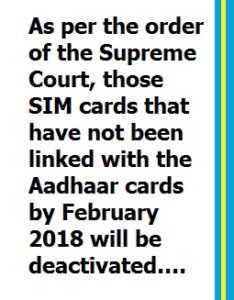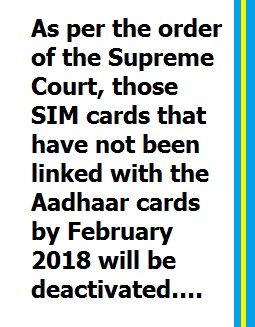 The Government of India has asked all the people to link their mobile SIM cards with Aadhaar numbers. The Government has made it mandatory to link SIM cards with Aadhar card before February 2018. The unlinked SIM cards / phone numbers will be deactivated after February 2018. The order was passed by the Supreme Court of India after hearing the Lok Niti Foundation case regarding linking of Aadhaar card and SIM cards.
Prevent misuse of phone numbers:
As per the order of the Supreme Court, those SIM cards that have not been linked with the Aadhaar cards by February 2018 will be deactivated. The decision has been taken by the Government of India to prevent criminals, fraudsters, and terrorists from using SIMs providing fake aadhaar cards and identity proofs in the name of ordinary citizens.
The Central Government has also ordered the telecom companies to inform their subscribers about the linking of cell phones to Aadhaar numbers. The Supreme Court has opined that the verification of existing pre-paid mobile users shoule be done within one year.
How to link SIM card with Aadhar card?
1) If you are linking your SIM card with Aadhaar card number for the first time, you will have to do it offline only.
2) Visit the nearest Aadhaar centre to get the Aadhar Update / Correction Form. You can also download it from the UIDAI website and follow the guidelines given there to submit the form.
3) You need to provide a photocopy of an Identity proof document such as PAN Card, Passport, Voter ID card at the time of submitting update form or correction form.
4) After the submission of the form, your biometrics will be verified at the enrollment centre and your thumb impression will also be verified.
5) It will take 2 to 5 working days to update the data. The maximum time as per the UIDAI helpline to carry out corrections is 10 days.