Following is the official district map of Suryapet. The new district of Suryapet is carved out from the existing Khammam district. Bhadrachalam did not get the district status despite demands from political parties.
Important towns in Suryapet district include Thungathurthi, Suryapet (district headquarter), Kodad, Huzurnagar etc.
Mandals in Suryapet district are Neredcherla, Mellachervu, Garidepalle, Huzurnagar, Mettampalle, Thirumalagiri, Nagaram, Jajireddygudem, Atmakur - S, Thungathurthi, Nuthankal, Mothey, Munagala, Nadigudem, Penpahad, Ananthagiri, Chilkur, Kodad etc. See the map of Suryapet district hereunder.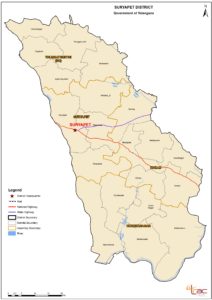 Also Read:
New Districts, Revenue Divisions and Mandals in Telangana State - 2016
New Districts in Telangana - Objections and Suggestions
New Districts Draft Notifications - GOs 2016