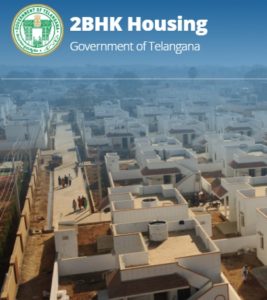 Government of Telangana has launched 2 BHK (2 Bed Room House Scheme) for the poor families in the state. Two Bed Room Housing Scheme has been proved most successful and the scheme is being implemented with more enthusiasm across the state. It has been expanded to urban areas including Hyderabad. Following is the basic eligibility criteria to be following while identifying beneficiaries under 2BHK scheme of Government of Telangana.
House Structure and Rooms:
Accodring to the master plan of the Government. each house will consist of 2 Bed Room, Hall, kitchen and two toilets
(bath-cum-WC) (2BHK). The following guidelines are issued by the Government to District Collectors and Commissioner, Greater Hyderabad Muncipal Corporation for the implementation of the programme.
Guidelines in brief (Eligibility for 2 BHK Scheme of Telangana Government):
1) Beneficiary family should be a BPL family. They should have a valid Food Security Card with a number on her / her spouse name / his name (in case of widow/ widower/ Physically challenged.).
2) House will be sanctioned in the name of housewife of the family.
3) Houseless Families and families living presently in Huts, Katcha houses or in Rented houses are only eligible.
4) There will be priority for SC / ST / Minorities in the selection of beneficiaries. Following caste composition will be followed in the selection of beneficiaries in each Assembly constituency.
Rural Areas:
SC /ST families: 50 percent
Minorities families: 7 percent and balance for others.
Urban Areas:
SC Families: 17 percent
ST Families: 6 percent
Minorities: 12 percent and balance for others.
The percentages indicated above are minimum and can be increased to the extent required if necessary. The Telangana Government has also launched a separate website for the scheme at http://www.2bhk.telangana.gov.in .