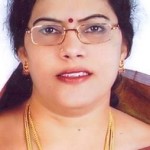 Killi Kripa Rani is a first time MP from Srikakulam parliamentary constituency in Andhra Pradesh. She was appointed as minister in central cabinet on 28th October 2012. She is a medical professional and also a writer. She was elected to Lok Sabha on the Congress Party ticket in 2009 elections. Following is the profile cum biodata of Dr. Killi Kripa Rani:
1) Name: Killi Kripa Rani (Also written as Krupa Rani)
2) Parliament Constituency: Srikakulam
3) Parents: Kausalya and Kamaiah
4) Date of the birth: 19th November 1965
5) Family Background: Middle class and belongs to OBC community
6) Education: Medical Education from Andhra Medical College, Visakhapatnam
7) Marriage: on 12th June 1985 with Dr Killi Ram Mohan Rao
8) Children: Two sons
9) Writings: The 100 Years Saga of Nehru's Family
10) Positions: Elected as MP in 2009. Member of committees of health and family welfare, foeign affairs, transport, tourism, ICMR and OBC Standing Committee.