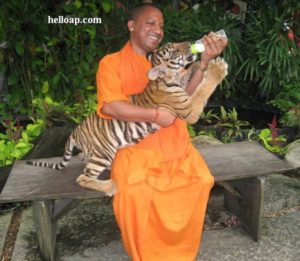 Yogi Adityanath is a latest finding of the politics in Uttar Pradesh. He has been chosen by the BJP as the Chief Minister of the largest state after securing a thumping majority in the Assembly Elections 2017. Following is the brief profile of Yogi Adityanath.
Adityanath hails from Rajput family and his real name is Ajay Singh Bisht. He later took the name 'Adityanath'. He was born on 5th June 1972 in Panchur, Pauri Garhwal in Uttarakhand. He holds a BSc degree from HNB Garhwal University, Srinagar, Uttarakhand.
Youngest MP:
Yogi Adityanath was first elected to Lok Sabha 12th Lok Sabha in 1998 at the age of 26 years to becom youngest MP. He was elected five times from Gorakhpur constituency.
Head Priest:
Yogi Adityanath is the head priest of the Gorakhnath temple. The temple is located in eastern Uttar Pradesh. He founded his own youth wing - Hindu Yuva Vahini in the year 2002 which is a social, cultural and nationalist group.
There were accusations on Hindu Yuva Vahini for inlfaming communal passions and the group was accused in the 2005 Mau riots. Yogi Adityanath has also been charges with several criminal cases and has been accused of making hate speeches.
Yogi Adityanath was arrested in 2007 during Gorakhpur riots. In 2015 Yogi Adityanath's Hindu Yuva Vahini (youth wing) has announced a mission to declare the cow as "Rashtra Maata" (mother of the nation).