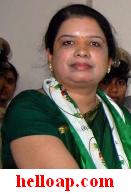 Anita Kumaraswamy is wife of HD Kumara Swamy, former Chief Minister of Karnataka. Anita has been elected to Karnataka Vidhan Sabha (Assembly) in 2008 by elections to Madhugiri Constituency. She contested and won on the ticket of Janata Dal - Secular (JD-S). Following is the brief profile of H.D. Anita Kumara Swamy.
Anita has been named as JD-S candidate for Bangalore Rural Constituency. She is presently representing Madugiri constituency in Tumkur district. Her husband, Kumaraswamy is contesting from Ramanagara constituency. He is presently representing Bangalore Rural Lok Sabha Constituency.
Anita Kumaraswamy has declared assets as Rs 28.57 crore when she was contested from Madugiri constituency in 2008 elections. It is observed that she will emerge as one of the richest candidates in the state.