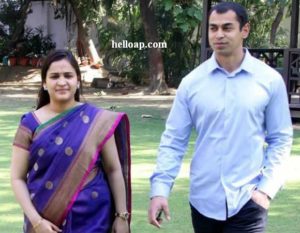 Aparna Singh Yadav is the latest buzzword in UP politics. Aparna Yadav is the wife of Prateek Yadav, the second son of Netaji Mulayam Singh Yadav (Chief of Samajwadi Party). Aparna Yadav has joined in active politics like Dimple Yadav, wife of Akhilesh Yadav. Following is the brief profile cum biodata of Aparna Yadav.
Aparna Singh Bisht is the daughter of acclaimed journalist and the chief of the Lucknow bureau of the Times of India, Mrs. Arvind Singh Bisht. Aparna and Prateek studied in the same school and later became friends cum lovers.
Mulayam Singh Yadav has accepted the relationship with Sadhana Gupta, mother of Prateek in 2007. Aparna was not aware of the true identity of Prateek Yadav until she meet Sadhana Gupta.
Arvind Singh Bisht didn't approve Aparna and Prateek relationship initially but accepted later. They went to UK for higher studies. Aparna did her masters in International relations while Prateek has done M.Sc. in Management from Leeds University.
Aparna and Prateek married in December, 2011 in the village of Mulayam Singh Yadav. They had their first child, Prathama who was born in 2013.
Aparna Yadav entered into active politics with the announcement of her candidature from Lucknow Contonment Assembly Constituency for the UP Assembly Elections 2017. This is also one of the reasons for the family fued between Mulayam and Akhilesh Yadav.