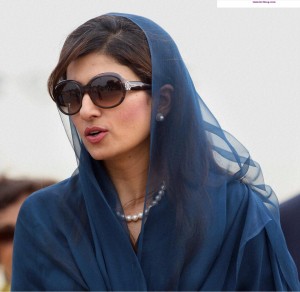 Hina Rabbani Khar, Pakistan's new Foreign Affairs Minister has been in news recently for her achievements in very ealy age of the political career. She is the youngest and first female Foreign Affairs minister in the cabinet of Pakistan Governmenet at the age of 34 years. She got acclaims as the most active Foreign Minister of Pakistan through starting dialogue with India. She met US Secretary of State, India Leaders such as SM Krishna, Sushma Swaraj and also several Kashmiri politicians. A business woman by profession, Hina Rabbani Khar graduated with a B.Sc (Hons) Degree in Economics from the prestigious Lahore University of Management Sciences (LUMS), Pakistan. Hina has completed her M.Sc (Hons) in Business Management from the University of Massachusetts Amherst (USA). Hina hails from the most backward parts of the Pakistan, Multan. There is a lot of talk on the web about Hina's fashion and life style. Hina Rabbani Khar's Birkin bag, Roberto Cavalli shades and Jimmy Choo heels that were on view during her visit to India. Following is the brief profile / biodata of Hina Rabani Khar including her husband, children, political life, career, distinctions and achievements:
Hina Rabbani Khar is the daughter of veteran Pakistani Politician, Ghulam Rabbani Khar. She was born on 19th November 1977. She served as Minister of State for Economic Affairs for 3 years and also worked as Minister of State for Finance and Economic Affairs for another 2 Years. She has played crucial role as Minister for Finance and Economic Affairs by leading Pakistan's Economic diplomacy both bilateral and multilateral. Hina Rabbani successfully organised four Pakistan Development Forums (PDF's). Hina is known for her expertise in Aid Effectiveness. Hina Rabbani represented Pakistan in the first ever strategic dialogue with GCC countries, OIC Foreign Ministers Meeting held recently in Astana. Hina is representing Pakistan Peoples Party (PPP). Following is the biodata / Curriculum Vitae of Hina Rabbbani Khar:
1) Name: Hina Rabbani Khar
2) Date of Birth: 19th November 1977
3) Education: B.Sc. (Hons.) and M.Sc. (Hons)
4) Husband and Children: Married to Feroze Gulzar and has two daughters Annaya and Dina.
5) 2002-2008: Hina elected as member of the National Assembly form District Muzafargarh in Southern Punjab
6) 2003-2005: Served as Parliamentary Secretary of the Economic Affairs Division
7) 2005-2007 : Served as Minister of State for Economic Affairs
8. 2008: Re-elected as Member of the National Assembly
9) 2008-2011: Served as Minister of State for Finance and Economic Affairs Division
10) From 12 February to 18 July 2011 Minister of State for Foreign Affairs
11) From 19th July 2011 - : Federal Minister for Foreign Affairs
Served as Chairperson / Member of following Committees:
1) Vice Chairperson: Steering Committee for Studies on 'National Trade Corridor Strategy and Structural Transformation.
2) Member: National Finance Commission, Economic Advisory Council, Cabinet Committee on Fast Track Power Generation Projects through International Competitive Bidding.
5) Chairperson of High Level Committee to consult all stakeholders for protection of WAPDA from reduction of gas to the power sector.
6) Member of Cabinet Committee for Review of Zakat and Bait-ul-Mal Systems.
7) Member of Task Force on Public Private Partnerships Infrastructure Finance and Development.
8. Member of Ministerial Committee to recommend measure to further accelerate the efforts to enhance agriculture output.
9) Member of Young Parliamentarians Forum (YPF) of Pakistan
Distinctions of Hina Rabbani Khar:
1) Nominated and Selected as Young Global Leader by World Economic Forum
2) First Women to present Finance Budget in 2009
3) Chairperson of AHAN-Aik Hunar Aik Nagar – Rural Development Concern
4) Served as Governor of Pakistan at the Islamic Development Bank.
For more details of Pakistan's Federal Minister for Foreign Affairs, see http://www.mofa.gov.pk/mfa/pages/article.aspx?id=43&type=4