Following is the official map of Siddipet District as released by the Government of Telangana. The new Siddipet district includes towns of Dubbak, Jangaon, Gajwel, Husnabad, Siddipet, Sirsilla and Manakondur etc. Several new mandals also formed in Siddipet district.
Siddipet district is carved out from the existing Medak district. There are demands for Jangaon district instead of Siddipet and Sangareddy districts. Click on the map below for bigger version of Siddipet District map.
You can post your objections and suggestions on the Siddipet district formation to the Government of Telangana through the website www.newdistrictsformation.telangana.gov.in .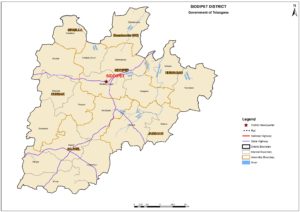 New Districts, Revenue Divisions and Mandals in Telangana State - 2016
New Districts in Telangana - Objections and Suggestions
New Districts Draft Notifications - GOs 2016