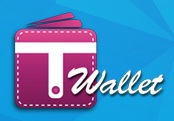 The Government of Telangana has launched its own official mobile app T-Wallet for online payments of user charges and bills to the state government. It is the official digital wallet of Telangana State launched on June 01, 2017.
T Wallet is available as a Any Time Any Where digital payment option for anybody. Citizens can use T Wallet to make payments for both Government and Private transactions to avail services. The facility is integrated with payments related to Mee Seva, GHMC, HMWSSB, TSNPDCL, TSSPDCL, RTA.
The Government of Telangana is also proposed to integrated Civil Supplies ePOS system and Streenidhi BC Points with T Wallet. Any smart phone user can download the T Wallet app from Google Play Store.
The T Wallet app supports Telugu, Urdu and English language. There is no service charge for using T Wallet. Authentication process involves Aadhaar + Biometric or Aadhaar + OTP to Aadhaar linked mobile number. Government payments such as Aasara Pensions, MNREGA payments will be pushed to eligible respective citizen's through T Wallet.