What an offer for NGOs (Non-Gazetted Officers) in Andhra Pradesh. The Government of Andhra Pradesh has decided to give flats for NGOs in Amaravati (CRDA region), the new capital of the state. 1968 flats will be constructed for NGOs.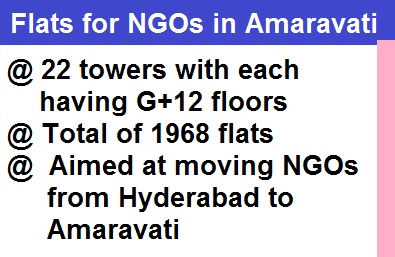 The Government has already issued tender notification inviting bids for the construction of flats. The total cost of the construction is estimated at Rs. 820 crores.
Also Read: Amaravati Housing Scheme by AP CRDA - Eligibility and Application
Total built up area of the flats is 35,63,640 sq.ft. There will be 22 towers and each tower will have G + 12 floors. The quality of the construction will be supervised by the Government of AP.
The interested companies may file their bids / applications to CRDA by 21st September 2017. The Government is intended to complete the project soon as it will allow the employees to move from Hyderabad to Amaravati.