The YSRCP and the TDP are the main contenders for power in AP / Seemandhra (Andhra Pradesh). The Assembly elections 2014 results in AP will come out in a few hours and both the camps are expecting a land slide victories for their candidates.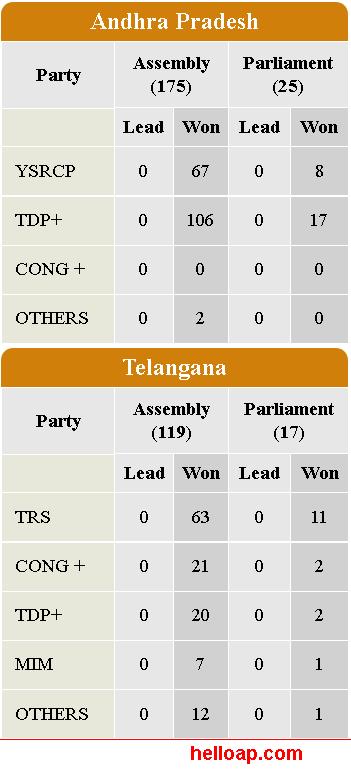 The exit polls have predicted a majority for TDP - BJP combine in Assembly and Lok Sabha elections in Seemandhra / Andhra Pradesh. The alliance may get 115 - 120 Assembly seats and 15-20 Lok Sabha seats in Seemandhra. It is going to be a two party show in Seemandhra, as the Congress is likely to see its worst defeat in the region.
The YSRCP appears to be confident of taking reigns of power with a thumping majority is not a favorite for exit polls. YSRCP seems better positioned in Lok Sabha elections than the Assembly elections, as the surveys suggested.
The TDP may have edge in Assembly elections because of its promises to farmers such as waiver of agriculture loans and various other schemes for different sections of society, as predicted by exit polls.