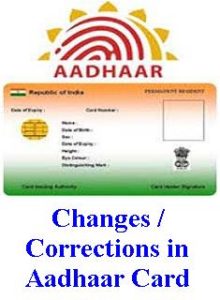 The people who want to change the details on their Aadhaar Card can do that through UIDAI self service portal. Aadhaar Self Service Update Portal is an easy to use portal for changes in any details of Aadhaar like, name corrections, update of address, date of birth etc. Following is the step by step procedure:
Update your Aadhaar profile in 3 easy steps:
STEP 1: Login with Aadhaar
STEP 2: Upload Documents
STEP 3: Select BPO Service Provider and submit request for corrections / changes.
Residents should have valid mobile number while changing the profile. Mobile number is mandatory for all to receive password for login. Residents can update details like Name, Address, Gender, Date of Birth, Mobile Number and Email ID through this self service portal.
For any other updates other than mentioned above, residents need to visit Aadhaar Enrollment / Update Center. Residents need not submit any documents for mobile and gender corrections.
Depending on the field to be updated / corrected / changed, residents have to attach original scanned (with color scanner) copies of supporting documents as per the Valid Documents List. The information submitted through the portal is subject to verification and validation.