The The Vijayawada Municipal Corporation (VMC) has passed a resolution to merge 42 villages in the corporation thus making Vijayawada into Greater Vijayawada Municipal Corporation (GVMC). With the merger of more villages, the territory of VMC will extend up to Gannavaram, Nunna, Tadigadapa, Poranki and Gollapudi and Yanamalakuduru villages surrounding the city.
The 45 villages included rich panchayats like Gollapudi, Poranki, Kanuru, Nidamanuru, Gannavaram, Enikepadu, Yanamalakuduru etc. With this decision, geographical area of the city would be expanded and infrastructure will be developed along with emergence of new colonies.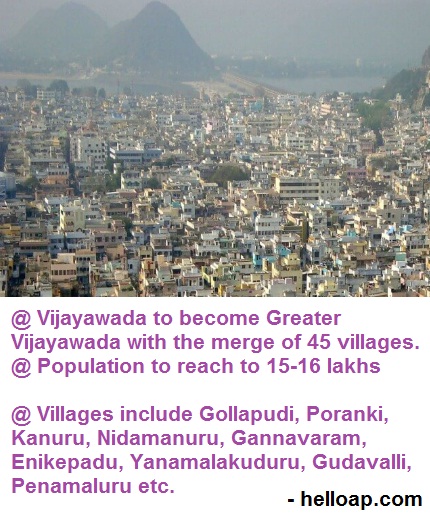 The population of Vijayawada city would be increased from 12 lakh to 15 to 16 lakh with the upgradation of the civic body to Greater Vijayawada Municipal Corporation. The Government is yet to take a final decision on the merger through VMC has passed the resolution.
Several panchayats surrounding Vijayawada city would be developed with their merger into VMC. The funds flow also will increase from the state and central governments under various schemes. The merger of the panchayats has been in pending for a long time.
Following are some of the important villages to be merged with VMS:
Ramavarapadu, Prasadampadu, Enikepadu, Nidamanuru, Atkuru, Gudavalli, Kesarapalli, Buddavaram, Gannavaram, Kanuru, Poranki, Tadigadapa, Yanamalakuduru, Penamaluru, Gollapudi, Jakkampudi, Nunna, Pathapadu and Ambapuram.