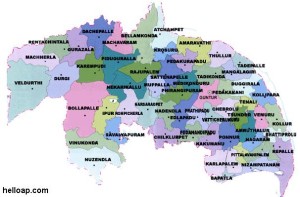 Real estate business and land prices in Krishna - Guntur districts are on cloud nine. As the discussions on proposed capital of new AP are tilting towards Krishna - Guntur areas, the land prices have been sky rocketing on a day to day basis. The residential plots and houses have already been out of the reach of the common man.
The Eenadu newspaper has reported an exclusive story on 14th July 2014 on the current trends in real estate business in Krisha - Godavari districts. It is reported that the land prices in and around and adjoining mandals of these districts are in the range of Rs. 10 - 15 crores per acre.
These are the mandals that are witnessing huge spike in land prices: Vijayawada Urban, Vijayawada Rural, Gannavaram, Ibrahimpatnam, Guntur Urban, Guntur Rural, Peda Kakani, Mangalagiri, Tadepalli.
Krishna - Guntur: Bubbles in the making
With the recent news on capital to be set up around Amaravathi, the land prices in Amaravathi, Thullur, Bavulapadu, Vungutur, Agiripalli, Nuzvidu, Musunur, Tadikonda, Chebrolu etc have raised a lot.
The hopes of 180 KM ring road, as announced the CM, Chandra Babu, has raised the land / real estate prices in Mylavaram, G.Konduru, Reddygudem, Kanchikacharla, Nandigama, Chandarlapadu, Veerulapadu, Duggirala, Kollipara, Vemur, Ponnur, Vatticherukur, Prattipadu etc.
But the actual transactions in Sub Registrar offices in many areas of Guntur - Krishna district (except urban SROs) are suggesting that the prices are creation of real estate brokers / agents and has the characteristics of artificial boom. The Samshabad / Maheswaram areas in Hyderabad are the classic examples of these type of boom and bursts. So, your guess on the next bubble in making to burst in AP will be right!