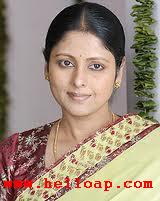 Jayasudha Kapoor, popular as Jayasudha is an MLA from Secunderabad Constituency of Andhra Pradesh. She is representing the Congress Party and has been loyal of YSR Congress Party. Jayasudha defeated former minister and senior TDP leader, Talasani Srinivasa Yadav in 2009 Assembly elections. She has been an ardent fan of late Chief Minister YS Rajasekhar Reddy who invited her to join in politics. Here is the brief profile of Jayasudha Kapoor and her film and political career:
Jayasudha is a grand daughter of famous scholar and literary historian, Nidudavolu Venkatarao. She married Nitin Kapoor, producer and cousin of Jeetendra in 1985. They have two sons Nihar and Shreayan. Jayasudha is a famous actress in Telugu film industry. She acted in most popular hits such as Adavi Ramudu and Meghasandesam. She acted in more than 300 films and co-stared with NTR, ANR, Krishna, Shoban Babu, Rajini Kanth, Kamal Hasan, Krishnam Raju and Chiranjeevi. She also tested her mettle as a producer and made seven films.
Coming to politics, Jayasudha has campaigned for Telugu Desam Party in 1996. But she did not join in the TDP and keep herself away from direct politics. Jayasudha joined in the Congress Party and contested for the first time to Assembly in 2009 Assembly elections from Secunderabad Segment. She has been tilting towards YS Jagan's YSR Congress Party then and now but yet to make her mind on continuing in the Congress Party. She has a long way to go to decide on contesting again in 2014 Assembly Elections and may keep shifting loyalties.
Jayasudha is also running a Shine Development Trust', and NGO working for the well being of poor. She turned as an anchor on NTV to present the real plight of the poor people in the society.
Jayasudha is given the title of 'Sahaja Nati' in recognition of her acting skills and being compared with great actress of Telugu film industry, Savitri. Most popular films of Jayasudha include Bommarillu, Amma Nann O Tamil Ammayi, Money, Premabhishekam, Jyothi, Kalikaalam, Grihapravesham, Idi Katha Kaadu etc. She got Nandi Award for best actress for Jyothi, Aame Katha, Idi Katha kadu, Premabhishekam, Meghasandesam and Dharmatmudu. There is a blog on her name at http://jayasudhamla.blogspot.com/ managed by her fans.