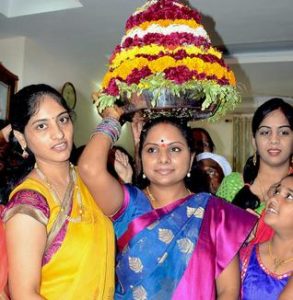 The postal departments of Government of United Kingdom (UK) / Britain and Newzealand have released postal stamps on Kalvakuntla Kavitha, daughter of KCR and TRS Lok Sabha MP and the president of Telangana Jagruthi.
The Britain and Newzealand have released special postal stamps on Kavitha in recognition of her efforts to show the importance of women through popularising Bathukamma festival across the globe.
President of TRS - NRI wing Kasarla Nagender Reddy has applied for both the countries to release special postal stamps and the countries have approved the proposal.
Newzealand has released a postal stamp worth one dollar with the photo of K Kavitha carrying Bathukamma and 'Subhakankshalu' work in Telugu.
The first class postal stamp released by Britain has the picture of Kalvakuntla Kavitha. The postal stamps were presented to Kavitha on 19th December 2016 at Telangana Bhavan in Hyderabad.