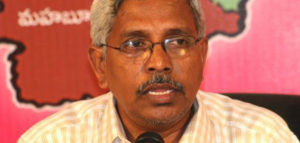 TJAC Chairman M. Kodanda Ram is likely to float a new political party in Telangana State. The Sakshi newspaper has reported that the professor turned politician may launch the new party with the name 'Telangana Jana Samithi' (TJS) after the completion of his Spoorthi Yatra.
The new party is likely to be announced in January 2018. It is also observed that Kodanda Ram has instructed the district coordinators of TJAC to concentrate on the party structure at the local level.
Policies and committees:
The TJAC has already discussed the policies and guidelines of the new party. The new party TJS has to be registered with Election Commission of India. Kodanda Ram may focus on building the party after the completion of his Yatra.
The party name may be Telangana Jana Samiti or Telangana Sakala Jana Samiti. It is also considering some other names. Organisational issues at the village level will be discussed from 1st January 2018 to 7th January 2018. Village, mandal and constituency level committees will be formed within a week.
Manifesto of TJS:
TJS is likely to focus on the aspirations of the people of Telangana during Telangana Statehood movement. The issued of water, funds and recruitments will be main agenda of the new party.