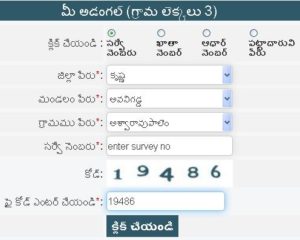 The Revenue Department of Government of Andhra Pradesh has launched Mee Bhoomi Portal for verification of all the land records in the state of AP. The people / land owners / pattadars can avail all types of documents and check their agriculture lands through Mee Bhoomi Portal. Following are details of checking land details of Krishna District (Amaravati) in Andhra Pradesh.
Most important services in Mee Bhoomi portal are adangals and 1-B documents. Other services include FMB, Village Map, Village Adangal, Villave 1-B, Aadhaar Linking Checking etc.
For Krishna district, land records of Agiripalli, Avanigadda, Ibrahimpatnam, Vungutur, Vuyyur, A Kondur, Kankipadu, Kanchikacherla, Kaikaluru, Kodur, Kalidindi, Krithivennu, Gampalagudem, Gannavaram, Gudivada, Gudlavalleru, Guduru, Ghantasala, Chandallapadu, Chatrai, Challapalle, G Konduru, Jaggaiahpet, Tiruvuru, Nandigama, Nagayalanka, Nuzvid, Pedana, Vijayawada Urban, Vijayawada Rural, Pamarru, Pedaparupudi, Mylavaram and other mandals.
Here is the procedure to get your land records:
1) Enter the url http://meebhoomi.ap.gov.in
2) Select your requirement (Adangal / 1-B / Village Map etc)
3) Click on any of Survey Number / Khata Number / Aadhaar Number / Pattadar Number
4) Fill the columns: District name, Mandal name, Village Name, Survey Number
5) ENter Code as shown (numbers) and Click.
6) You will get the desired document in a separate window. For this you need to allow pop ups in your browser.