''Since your Bank account xxxxxxxxxx0000 is not linked with Aadhaar, please do so at the earliest to avoid any inconvenience. Please note that the last date for updating Aadhaar is 31st December 2017 post which accounts not linked with will become inoperative to comply with the guidelines."
This is the message we have been receiving repeatedly from the banks. You have to link your bank accounts with Aadhaar number on or before 31 December 2017 to avail banking services. Following is the simple and step by step procedure to check the status of your bank account linking with Aadhaar number.
Also Read: Is You Aadhaar Blocked - Check Aadhaar Activation Status Online
How to Link Aadhaar and PAN Cards?
The Government has already made it mandatory to link bank accounts with Aadhaar to open bank accounts and for transactions above Rs. 50000. All the existing account holders have been asked to submit their Aadhaar numbers to the concerned banks by December 31, 2017, failing which their accounts will become invalid.
Here is a step by step guide:
1) Visit the UIDAI website (http://uidai.gov.in). Click on 'Check Aadhaar & Bank Account Linking Status' under 'Aadhaar Services'. This will take you to another page.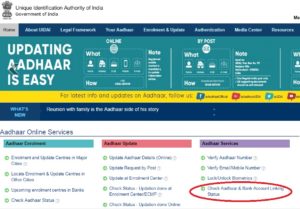 2) There you have to enter Aadhaar number and security code. OTP will be sent to your registered mobile number. You have to enter the OTP and submit the details.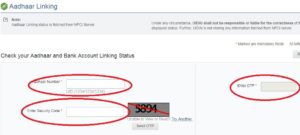 3) Then the message with the status of linking will be displayed on UIDAI website. If the bank account and aadhaar are linked, the message will include your bank details.