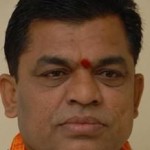 Porika Balaram Naik is the only Banjara Tribal MP in India. He is representing from Mahaboobabad Lok Sabha Constituency, Warangal district in Andhra Pradesh. He is a Congress MP and has been appointed as Minister in Union Cabinet on 28th October 2012. Following is the brief profile and biodata of Balaram Naik:
Name: Porika Balaram Naik
Lok Sabha Constituency: Mahaboobabad (ST Reserved)
Parents: Lakshmi and Lahu Naik
Occupation: Agriulture
Date of Birth: 6th June 1964
Place of Birth: Madanapalli Village, Mulugu Mandal, Warangal district
Name of Spouse: Tirupathamma
Children: Two sons (Sai Sankar and Sai Kiran)
Elections: Elected to Parliament (Lok Sabha) in 2009 elections.
Education: MA (Andhra University)
Profession: He joined as Constable in the police department in the early days of career and worked in telecom department. Later he left the job and entered into real estate business.
Positions occupied: National President of All India banjara Sevak Samaj, Member of Standing Committee of Labour Department, Consulting Committee on Civil Aviation and Technical Committee of Indian Railways.
Awards: He is participating in Social Service, Tribal Welfare and Old Age people welfare activities.
Favorite sports: Valley Ball and Cricket
Hobby: Book Reading
Properties value: Rs.1,45,22,000