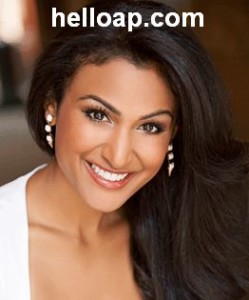 Nina Davuluri is from Krishna district of Andhra Pradesh. Nina won Miss America 2014 pageant on Sunday (15th September 2013) night in Atlantic City, New Jersey. Nina Davuluri is the first Indian American to win the contest. Earlier she won Miss New York.
Nina Davuluri studied in University of Michigan. She had bad asthma and gained a lot of weight. She maintained a strict regimen of healthy-eating and regular exercise to beat the health problems successfully. Nina wants to go to medical school to become a doctor. Following is the biodata / profile of Nina Davuluri:
1. Full Name: Nina Davuluri
2. Hometown: Syracuse, New York
3. Ancestors: From Krishna District.
4. Age: 24 years
5. Education: St. Joseph High School and University of Michigan.
6. Platform Topic: Celebrating Diversity through Cultural Competency
7. Ambition: To attend Medical School to become a Physician.
8. Talent: She loves Classical Bollywood Fusion
9. Scholastic Honors: Secured Dean's List; Michigan Merit Award; National Honor Society
10. Career Ambition: Want to become a doctor.
11. Competition Sponsors: Miss Syracuse and Miss New York State Scholarship Pageant, Inc.