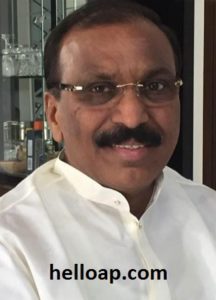 Silpa Mohan Reddy is contesting from Nandyal Assembly Constituency in the bypolls to be held in August 2017. The seat is vacant due to sudden demise of Bhuma Nagireddy. Silpa Mohan Reddy joined in YSRCP as the TDP denied ticket to him in the by-elections. Bhuma Brahmananda Reddy is contesting on the TDP ticket. Following is the brief profile cum biodata of Silpa Mohan Reddy.
Also Read: Profile of Bhuma Akhila Priya - Allagadda Constituency
Details of Bhuma Brahmananda Reddy - Nandyal Constituency
Silpa and Bhuma families are rivals in the politics of Kurnool district of Andhra Pradesh. Silpa Mohan Reddy served as minister in the previous cabinets. After Bhuma Nagireddy's entry into TDP, Silpa has been reluctant in TDP activities in the district and joined YSRCP consequently.
Silpa Mohan Reddy has served as minister for Housing, Govt of AP. He was elected twice as an MLA from Nandyal constituency. Silpa Mohan Reddy is also the co-founder of Silpa Real Estates.
Silpa Mohan Reddy has joined Congress Party during the tenure of Y.S.Raja Sekhar Reddy. Mohan Reddy participated in several agitations in Kurnool districts such as Nandi Raithu Samakhya, for the release of irrigation water from Srisailam Reservoir etc.
In 2004 Assembly elections, Silpa Mohan Reddy contested on the Congress ticket and won with record 49500 votes majority defeating NMD Farooq, the then TDP minister. He also won in 2009 elections defeating AV Subba Reddy of TDP.
Name: Silpa Mohan Reddy
S/o: SK Chenna Reddy
Age: 57 years
Address: D.No.-25/2-36-38/B1, Ramanatha Reddy Nagar, Nandyal Town, Kurnool Dist.
Email: rgngareddy@gmail.com
Contact Number: 7893333399
Profession: Business