Following is the official map of new Komaram Bheem district in Telangana state. The district headquarter is Mancherial. The Government is proposed to create Asifabad district, which was earlier included in Komaram Bheem district. Komaram Bheem district includes Assembly Constituencies of Khanapur (ST), Chennur (SC), Mancherial, Bellampalli (SC), Sirpur. The map has been drawn before the decision to create Asifabad district.
Mandals in the Komaram Bheem district are Mandamarri, Naspur, Mancherial, Luxettipet, Nennal, Kotapalle, Vemanpalle, Bheemini, Tandur, Kasipet, Chennur, Jaipur, Tandur, Rebbana, Kagaznagar, Bejjur, Dahegaon etc.
The Komaram Bheem district map includes boundaries of mandals, assembly constituencies, district and rail, national and state highways, river etc. Click on the map below to see the bigger version of the komaram bheem district map.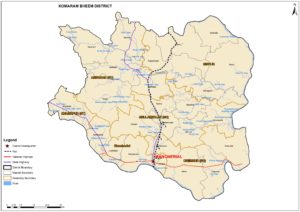 Also Read:
New Districts, Revenue Divisions and Mandals in Telangana State - 2016
New Districts Draft Notifications - GOs 2016