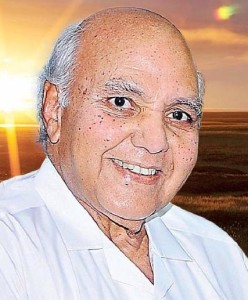 Cherukuri Ramoji Rao of Ramoji Group of companies has been awarded with Padma Vibhushan, second highest civilian award in India. The award has been conferred on him on 25th January 2016 for his contribution to the Indian media through his Eenadu newspaper and ETV television channels. Ramoji Rao has dedicated the award to the Telugu people. Following is the brief profile of Ch Ramoji Rao:
Ramoji Rao was born in a middle class agriculture family in Pedaparupudi village in Krishna district of Andhra Pradesh on 16 November 1936. His parents are Cherukuri Venkata Subbamma and Venkata Subba Rao. He has two sisters Rajyalakshmi and Ranganayakamma. He has been into every field like foods, finance, hotels, movies, entertainment, advertising, publication, journalism, marketing, computers, film distribution, education, etc. Following is the bio-data of Ramoji Rao:
1) Education: Gudivada Municipla High School, College education in Gudivada College.
2) First job: Artist in an ad agency in New Delhi
3) Marriage: With Tatineni Ramadevi on 19th August 1961.
4) 1962: Started Margasarsi Chit Fund
5) 1965: Started Kiran Ads
6) 1967-69: Vasundhara Fertilisers in Khammam
7) 1969: Annadata Magazine for farmers
8) 1970: Images Advertising Agency started
9) 1972-73: Dolphin hotels started in Visakhapatnam
10) 1974: Eenadu daily launched in Visakhapatnam
11) 1974: Margadarsi Marketing Private Limited launched.
12) 1975: Eenadu started in Hyderabad.
13) 1976: Sitara magazine started for cinema lovers.
14) 1978: Chatura and Vipula magazines started.
15) 1980: Priya Foods launched.
16) 1983: Usha Kiran Movied launched for film production.
17) 1990: Started Eenadu Journalism School
18) 1996: Ramoji Film City
19) 2002: ETV launched with six regional channels.
20) 2002: Ramadevi Public School started.
21) 2015: 4 new channels of ETV launched (ETV Plus, ETV Life, ETV Cinema, ETV Abhiruchi).