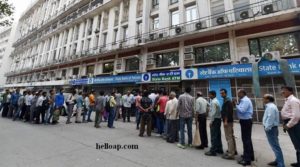 The Government of India is likely to continue with its cashless / less cash transaction policy after 30th December 2016. The present restrictions on cash deposits and withdrawls will end after 30th December and the Government has to bring new rules with regard to deposits, withdrawls and other transactions in banks.
Following are likely to be imposed by RBI after 30 December 2016:
1) Cash withdraw from banks: Rs. 50000 per day
2) Cash withdraw from ATMs: Rs. 15000 per day.
If the limit exceeds than the above there will be surcharge to the amount of 0.5 percent to 2 percent depending up on the withdraw amount. This proposal is under consideration at the central government level.
The surcharge will be collected in the name of managerial expenses. Imposing surcharge is one of the recommendations of M.B. Shaw committee.
Following are some more proposals under consideration:
1) Complete ban on the cash transactions above Rs. 3 lakhs.
2) Each family will be allowed to keep the cash upto Rs. 15 lakhs only.
3) All payments amounts to and above Rs. 1 lakh will attract surcharge.
4) All the companies and industries will have to pay the salaries of their employees in the form of cheques and digital payments.