The Government of Telangana has started implementing new system to curb traffic violations in Hyderabad. The traffic police will award penalty points to various traffic offences. Vehicle owners who secure 12 points in two years of time will lose their driving licence. Learner licence holders will lose licence if their penalty points reach 5. Following are the details: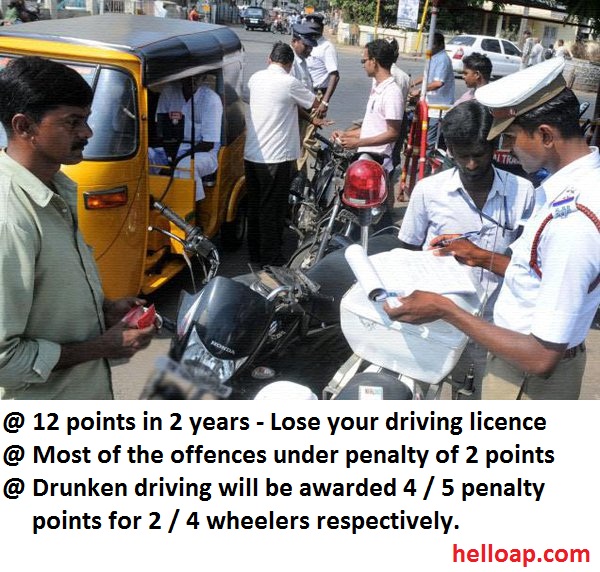 1 Point Penalty for these offences:
a) Carrying extra passengers in transport vehicles
b) Driving without helmet or seat belt
2 Points Penalty:
a) Wrong side dricing
b) Parking dangerously on highways
c) Unauthorised transportation of passengers in goods vehicles
d) Violating speed limit, but driving below 40 kmph
e) Dangerous driving, driving while using a cell phone, excess load projection on either side of vehicle, signal jumping, zig-zag driving
f) Vehicles causing noise and air pollution
g) Dricing without third party insurance
h) Driving without public liability certificate for vehicles carrying hazardous substances
i) Offenders booked under sections 279 (dangerous driving) 336 / 337 / 338 (causing injuries in road accident of the IPC).
3 Points:
a) Ciolating speed limit, but driving above kmph
b) Drink driving in case of a two wheeler
c) Racing
4 Points:
Drink driving in case of four wheeler, lorry, goods carrier.
5 Points:
a) Drink driving in case of public transport (cab, auto, bus)
b) Chain snatchers, robbers, facoits using vehicles to commit offences
c) Offenders booked under sections 304-a and 304 (ii) of the IPC for causing death of people in road accident.