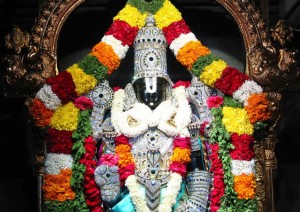 TTD (Tirumala Tirupati Devasthanams) has come out with another online service for the convenience of the Lord Balaji devotees. The Arjitha Seva Tickets can be booked online from 1 February 2016 through TTD Seva Online website. There will be no current booking system for Arjitha Seva.
Under the present system, tickets for all the sevas performed to Lord Venkateswara inside the Tirumala temple everyday will be sold to devotees across bank counters a day in advance. Tickets of the sevas like Brahmotsavams, Vasantotsavams, Dolotsavams, and Sahasra Deepalankaram are available under current booking system.
Tickets for Suprabhatam, Thomala, Archana, Abhishekam, Mel Chat Vastram, Thiruppavada, and Sahasra Kalasabhishekam are available by way of electronic-dip system.
As per the latest proposal all the tickets presently available under the current booking system will be made online booking for the benefit of the pilgrims from February 1, 2016. This will stop the devotees spend their nights in queue lines at the bank counter for darshan tickets. 75 percent of the total tickets would be diverted to the online quota and the remaining tickets would be kept under the discretionary quota of the officials.