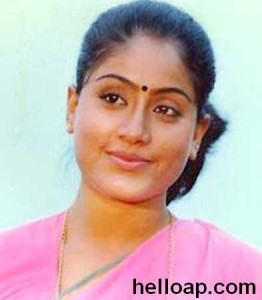 M. Vijaya Shanthi is a famous Telugu Actress of 1990s and presently MP from Medak Parliamentary Constituency in Andhra Pradesh. She won from Medak Constituency on the ticket of TRS party in 2009 elections. She has distanced herself from TRS and associated with the Congress Party in the recent political developments. Following is the brief profile of Vijaya Santhi.
Parents of Vijaya Santhi are Srinivasa Prasad and Vara Lakshmi. She was born on 24 June 1966 in Madras. She studied till SSC and got married on 29 March 1988. She has been the supporter of Telangana. She started her political career with BJP, sympathetic for TDP for a while and now with the Congress Party. She was suspended from TRS before she expressed her loyalty to Congress Party.
Vijaya Santhi was elected to 15th Lok Sabha in 2009 and member of Parliamentary Committee on Information Technology from 31 August 2009. She visited countries like Malaysia, Newzealand, Singapore and U.S.A. She is likely to contest from Medak Constituency in 2014 elections.
Permanent Address: Plot No. 2B, MLA`s Colony, Road No. 12, Banjara Hills, Hyderabad, Andhra Pradesh - 500034. Phone: (040) 23322888, 09212219137 (M).