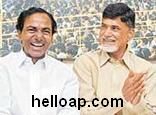 Yes, what you are reading is true! This could be one of the strong possibilities and will be political scenario in Andhra Pradesh after Assembly Elections 2014.
We would say this assuming that the state will not be bifurcated before the elections. The TRS will be the gainer in Telangana but it can not form the government on its own because of its non existence in Seema Andhra region.
On the other hand, the TDP is moving the pawns as safe as possible to manage TRS in the post poll scenario. The TDP will have bright chances of forming the government if it manages to emerge as single largest party.
The TRS chances of forming the government in united AP largely depends on its electoral success in Telangana. Securing anywhere around 70-80 seats may keep its chances open.
The TRS may also feel comfortable in joining hands with TDP rather than YSRCP.