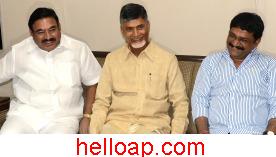 The bifurcation of Andhra Pradesh is creating huge blows to the Congress party in Andhra Pradesh / Seemandhra. You can see that in the relaxed moments of TDP chief Nara Chandrababu Naidu in the recent press conferences.
TDP has been flooding with Ministers, MLAs, MLCs and other state and district level leaders from the Congress Party and YSRCP. The mood in Telugu Thammullu in Seemandhra seems to be high on the positive side. Ministers Erasu Pratap Reddy, TG Venkatesh, Ganta Srinivasa Rao have already joined in TDP.
The Praja Garjhana meetings of TDP are being turned into forums to join in the party by Congress Party. Congress MLAs Kannababu Raju, Ganta, Avanthi Srinivas, Venkatramaiah etc will be joining in TDP in Visakhapatnam Praja Garjhana.
It will be high time for the TDP chief to keep the party united as dissent is likely to grow among the party leaders due to these 'inflows' from other parties.