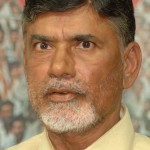 The Telugu Desam Party and its President Chandrababu Naidu are in their life time crisis in the state of Andhra Pradesh. Losing hopes on returning to power even after sitting in opposition chairs for two consecutive terms, the TDP is on the edge with Telangana issue.
Being in a critical juncture for its existence, the TDP is trying to maintain pro-people and anti-politics stand in both the regions. Naidu is saying that the Congress is dividing the state for political benefits. If not so, why political parties exist? Is there any thing as such 'good politics'?
The party is likely to face severe crisis if the state is bifurcated. The TRS and YSRCP are perceived gainers in Telangana and Seemandhra regions respectively. Is the TDP gearing up to sit in opposition for another term, in two states?