Visiting Tirumala Tirupati Devasthanams (TTD) is an enchanting experience for so many people. The entire region of Tirumala - Tirupati is a treasure house of ancient temples, heritage, waterfalls. There are so many interesting temples and places in and around Tirupati. TTD itself manages temples in the Tirumala-Tirupati region along with some other temples in the Chittoor district of the state of Andhra Pradesh. There are plenty of choices for pilgrims to visit in and around Tirumala.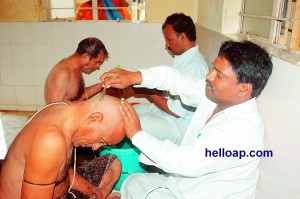 For the convenience of pilgrims and tourists, TTD has also introduced several package tours to take you to the temples situated around the temple town of Tirupati. The buses starts from the Central Reception Office, Tirumala at 06:00 AM every day and returns to Tirupati on the same day at 13:20 hrs. This will be very convenient facility for those planned to aboard trains from Tirupati Railway Station. TTD also runs 'Travel as you Like' Bus Service to Papavinasanam which also covers Akasha Ganga and Japali Venugopala Swamy temple. There is also a direct bus service from Tirupati to the Sri Padmavathi Ammavari Temple at Tiruchanoor. If you can hire a travel service, you have so many places to visit. Here are some of these:
Tourist Places / Temples in and around Tirumala:
1) Sri Varahaswami Temple
2) Sri Venkateswara Temple
3) Sri Anjaneyaswami Temple
4) Sri Bedi Anjaneyaswami Temple
5) Teerthams
6) Other Places: 1) Sri Venkateswara Temple, Rishikesh 2) Sri Chandramouleswaraswami Temple, Rishikesh 3) Sri Pattabhiramaswami Temple, Vayalpad.
Temples / Places in and around Tirupati:
1) Sri Kodandaramaswami Temple, Tirupati
2) Sri Kalyana Venkateswaraswami Temple, Naryanavanam
3) Sri Padmavathi Ammavari Temple,Tiruchanoor
4) Sri Kariyamanikyaswami Temple, Nagiri
5) Sri Kapileswaraswami Temple, Tirupati
6) Sri Govindarajaswami Temple, Tirupati
7) Sri Kalyana Venkateswaraswami Temple, Srinivasa Mangapuram
8) Sri Prasanna Venkateswaraswami Temple, Appalayagunta
9) Sri Venugopalaswami Temple, Karvetinagaram
10) Sri Chennakesavaswami Temple, Tallapaka
11) Sri Vedanarayanaswami Temple, Nagalapuram
12) Sri Annapurna Sameta Kasi Visweswaraswami Temple, Bugga Agraharam
You can get the details of prices / charges for various package tours and transport facilities to reach the above places from www.tirumala.org / www.tirupati.org.