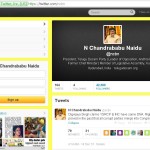 Nara Chandrababu Naidu, the former Chief Minister of AP and TDP President is busier these days with updating his twitter account. He is available to his party men at https://twitter.com/ncbn . Well, who is updating his twitter account and who is tweeting on behalf of him?
If we look at the language used in Naidu's tweets, one can easily conclude that the language is not from his key pad / board. You can find so many similarities with the tweets and language of Nara Lokesh and Chandrababu Naidu.
We have seen in the past on several occasions Chandrababu Naidu struggling with English. It is surprising to see phrases such as toying with time, nail in the coffin etc. Then it should be everybody's guess!