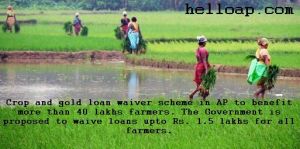 The Government of Andhra Pradesh has released a special GO for the purpose of debt relief to farmers, women self help groups in the state. The GO is applicable for farm an gold loans in commercial, co-operative banks, regional rural banks, farmers service co-operative societies and primary agriculture co-operative credit societies.
Here we are giving complete GO copy for the benefit of beneficiaries of the scheme. The GO is also available on the Government website at goir.ap.gov.in OR aponline.gov.in .
APCBS Portal - Know Your Crop and Gold Loan Status in AP
AP Agri and Gold Loan Waiver Schedule - First Phase
AP Crop and Gold Loan Beneficiaries List 2014
The loan waiver scheme is applicable to crop loans and agriculture gold loans disbursed for crop purposes only, and also loans converted to MTL due to calamities. The cut off date for outstanding loan is 31st December 2013 and including interest as on 31st March 2014.
Crop and gold loans that were outstanding as on 31st March 2014 also will be eligible for waiver even if they were repaid to the bank or cooperative by the farmers. Following is the full copy of the GO Ms. No.174 dated 14 August 2014.
AP Loan Waiver Scheme 2014 GO - Guidelines for Crop and Gold Loans