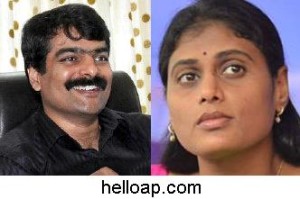 YS Sharmila of YSR Congress Party (YSRCP) has been in news across the state of AP and Telangana for her mass appeal, glamour and of course political background. She is the brand ambassador of YSRCP since the launch of padayatra. The opposition parties have criciticised her on personal issues and also brought her marriage with brother Anil Kumar into controversy.
Here is the profile and biodata of YS Sharmila
TDP women wing President, Shoba Himavati has attacked YS Sharmila in front of the media. Himavathi revealed some 'facts' (alleged) about YS Sharmila and Anil Kumar marriage.
According to that version, Brother Anil kumar was a Brahmin and got married to a Brahmin girl. It was an arranged marriage. He used to live in a rented house at Vidyanagar - Nallakunta area of Hyderabad with his wife. They have a child also.
YS Sharmila fell in love at first sight with Anil Kumar and believed to have forced her father (YS Rajasekhar Reddy) to accept the proposal to get marriage with Anil. YS Rajasekhar Reddy called upon Anil Kumar and requested Anil to give divorce to his wife. Later Anil was forcibly converted into Christianity inorder to marry YS Sharmila.
This is the version of TDP leader Himavathi. YSR Congress party has also criticised Himavathi strongly saying that she is not an SC.