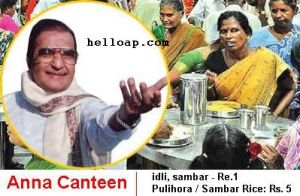 The Government of Andhra Pradesh is proposed to start Anna Canteens in the state to provide tiffins, lunch and dinner at low prices for the poor. The scheme is planned in the lines of Amma Canteens in Tamilnadu. Following are the important features of Anna Canteens.
The Government will provide Idli and Sambar for Rs.1 (one rupee) as breakfast. In the afternoon, Sambar rice or lemon rice will be provided for Rs. 5 in Anna Canteens.
The Government is also proposed to start Anna Raagi Sangati centers in Anantapur district as the region is known for that food. These canteens will be started at the centers where daily labour, poor and students gather.
In the first phase, 15 Anna canteens will be started in Visakhapatnam, 10 in Guntur, 5 in Tirupati and 5 in Anantapur. The scheme is likely to be launched in November 2014. Amma Canteens in Tamil Nadu has been a super hit scheme.