The Government of Telangana has decided to distribute new pattadar passbooks to all the farmers on 11th March 2018. The Government will also launch a new land bank website Dharani to have details of all land available with Telangana government.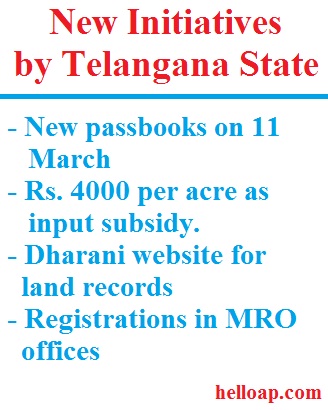 The newly designed tamper-proof pattadar passbooks, which may look like passports will be distributed by the President of India or Prime Minister on 11th March 2018. This is the unique initiative of the Government of Telangana.
The Government has carried out the survey of land across the state and prepared new records. The passbooks will be issued to the farmers ahead of the launch of another programme, Rs. 4000 per acre to farmers on 15th May 2018.
All the data of the lands available after the re-survey and purification of the records will be uploaded to Dharani website, to be launched by the TS Government. The website will have all the security features to avoid misuse of the information. The system of registrations by MROs also will be launched from 11th March 2018.