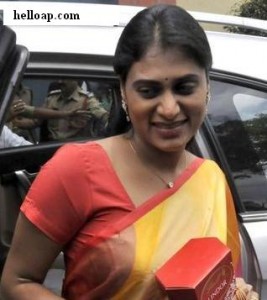 Y.S. Sharmila is the daughter of late Chief Minister of Andhra Pradesh, Dr. YS Rajasekhar Reddy. She has been in news recently for her appealing personality and speeches in the bye elections campaign during 2012. After the arest of YS Jagan Mohan Reddy in a disproportionate assets case, Sharmila has been active in YSR Congress Party (YSRCP). Here is the profile cum biodata of YS Sharmila.
YS Sharmila was born to Yeduguri Sandinti Rajasekhar Reddy and Vijayalakshmi Reddy at Pulivendula, Kadapa district. Some reports / people say that YS Sharmila was initially married to her maternal uncle. Sharmila's second husband is Brother Anil Kumar. Sharmila has entered into active politics after the arrest of her brother and YSRCP President YS Jagan.
Sharmila's husband, Anil Kumar is an evangelist in Andhra Pradesh. Here is the alleged love story of YS Sharmila and Brother Anil Kumar as told by a TDP women leader. He has become much popular during the reign of YS Rajasekhar Reddy. Sharmila has taken up Maro Praja Prasthanam Padayatra to counter the state tours of TDP Chief Chandrababu Naidu and Chief Minister Kiran Kumar Reddy.
Sharmila's Padayatra would begun from Idupulapaya and will be continued till Itchapuram in Srikakulam district in the first phase. She is likely to become much active in the state politics in the coming days given her family background and need of the YSR Congress Party.