Following is the new district map of Nagarkurnool. The district has been carved out from the existing Mahabubnagar district. The district headquarter is Nagarkurnool.
The assembly constituencies in the Nagarkurnool district are Kalwakurthy, Nagarkurnool, Achampet and Kollapur.
The mandals in Nagarkurnool district are Amangal, Talakondapalle, Madgul, Veldanda, Kalwakurthy, Vangoor, Tadoor, Thimmajipet, Ghanpur, Uppunuthala, Padra, Balmoor, Peddakothapalle, Kollapur, Kodair etc. Following is the map of Nagarkurnool district.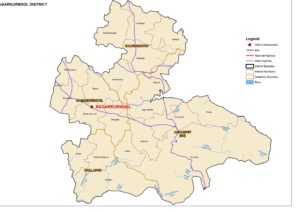 New Districts, Revenue Divisions and Mandals in Telangana State - 2016
New Districts Draft Notifications - GOs 2016